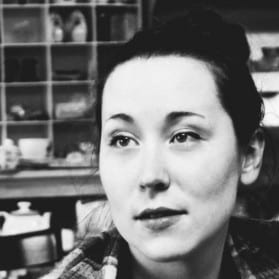 We are pleased to welcome Jenna Beaulieu to the Seal Cove Auto Museum staff as our Store and Events Manager, a new position at the Museum. Jenna will plan and coordinate the Museum's increasing number of events, take charge of the Museum's store and inventory, as well as greet and admit visitors and ensure all visitors are welcomed and have wonderful experiences.
Jenna is a journalist with a background that includes writing short stories, poetry, and essays, as well as photography; she is particularly passionate about photographing moss and mushrooms. She has previously worked as a freelance writer, a library archivist, and most recently as the Program Associate with Island Writers and Readers.
We are sure Jenna would meet the approval of Richard Paine, the Museum's Founder, as she is an avid collector in her own right, lately collecting vintage suitcases! She says she "finds comfort in tactile nostalgia… and looks forward to working with an organization that not only promotes the preservation of unique vintage objects, but tells their story." Jenna lives in nearby Bass Harbor.